NLAP is happy to announce two new resource tools for grassland and biodiversity protection: our storymap, Grasslands: The Land and the People that Call it Home, and our Conservation Reserve Program Dashboard! Together, these tools explore the history of one of the land's most precious communities and opportunities for their continued restoration.
Take a deep dive into the world of grasslands and learn more about:
Different characteristics of grasslands
Native care of grasslands historically and today
How grasslands serve and support our world from an ecological, economic, and climate perspective
Conservation Reserve Program (CRP) Data Dashboard
Hand-in-hand with our discussion of these rich land areas is our new Conservation Reserve Program (CRP) Dashboard that helps to preserve them!
The Conservation Reserve Program (CRP) is one of the nation's most extensive private-lands conservation programs. First signed into law in 1985, the CRP guarantees enrolled farmers a yearly rental payment on their lands if farmers agree to "remove environmentally sensitive land from agricultural production and plant species that will improve environmental health and quality" (Farm Service Agency). The contract that solidifies this exchange for all lands enrolled in CRP is valid for about 10 to 15 years. According to the Farm Service Agency, the long-term goal of the CRP is to re-establish valuable land cover to help improve water quality, prevent soil erosion, and reduce habitat loss.
For Native Nations and land caretakers, the CRP provides a potential avenue for generating income by continuing to do what they have been doing for generations: protecting and conserving the land and other non-human relatives. The CRP allows Native farmers to explore the potential economic benefits and growth for lands that serve their communities in ways unrelated to agricultural production.
Before drawing on such opportunities, Native communities deserve resource tools (like the CRP Dashboard) that provide the context needed to plan for enhanced land protection and economic development.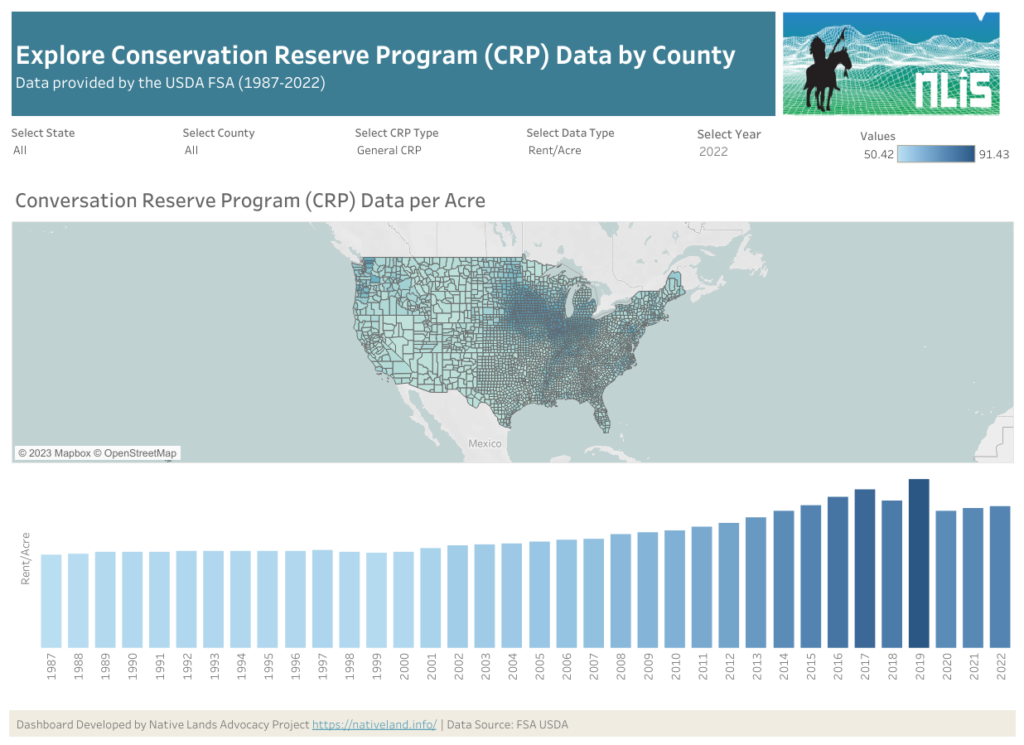 Here are the potential uses of this dashboard:
Provides an informational resource for tribes to get a baseline for CRP trends (in enrolled acres and average rent paid) in a given county
Provides visibility to the historical trends (and stability) of CRP in areas of interest
Let Us Know How We're Doing
What has been most helpful to you and your community from this blog post? Do you have suggestions as to how we can improve our content for next time?
We greatly value your feedback as NLAP builds these resources and narratives with Native Nations in mind.