ARMP-IRMP Planning Portal
Land Ownership and Leases Management
Find here the key data to fill in the Land Ownership and Leasing Management Section of your ARMP. Refer back to the ARMP template located on the Getting Started page for more details.
About this Dashboard This data dashboard summarizes land area data from the BIA Annual Report of Indian Lands for the years 1966, 1975, 1978, 1979,  1980, 1981,
Read More »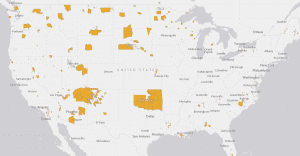 This maps displays US Native lands as Represented by the US Census Bureau, US Bureau of Indian Affairs, and 1978 India Claims Commission.
Read More »