According to the Office of Natural Resources Revenue (ONRR), "Companies pay to produce energy and minerals from federal and Native American property. The payments these companies make include bonuses, rents, and royalties. ONRR collects these payments and distributes them. The payments go to federal and local governments and Native Americans."
Why is this Data and Dashboard Important?
You are free to use and share our dashboards. Here's how!
Download Image or Embed Dashboard
All of our dashboards can be shared,  downloaded as static images or embedded on other websites by using the dashboard controls at the bottom-right hand corner of each dashboard and all the filters will be preserved.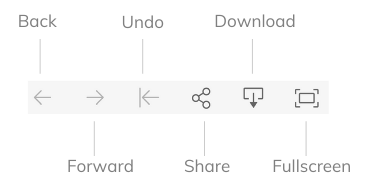 Copy and paste the preferred citation format
Our Creative Commons License
Do you have questions or comments about this data? Or do you have other data or charts you would like us to add to the site? let us by using the comments form below.